Full Service Residential & Commerical HVAC Services
As Dallas HVAC specialists AC Wizard provides Heating and Cooling services for both residential and commercial properties. Whether your system needs replacing, repairs or general tune-ups and maintenance, AC Wizard is here for you. With AC Wizard you can always expect the highest level of service and quality that the Dallas Metro Area has to offer.
If you would like to learn more about Heating and Cooling for your home needs, please continue to our pages listed above for more information or call us now to speak to a friendly technician or team member.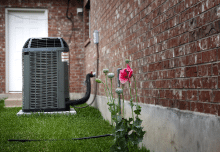 Indoor air pollution can actually be worse for you than outdoor pollution! We can help supply and install air purifiers, UV lights and humidifiers.
Advanced Technology and Efficiency
You can get 50% energy efficiency savings in homes with new HVAC systems. Ask us about the latest technology for your particular needs.
We're experienced in duct system design and installation.
Blocks 75% of the sun's heat from your home and can reduce energy costs up to 25%.
Saves money and our nation's limited energy resources
Makes your house more comfortable by helping to maintain a uniform temperature throughout the house, and
Makes walls, ceilings, and floors warmer in the winter and cooler in the summer.